I don't know about you, but I'm definitely a "multi-color" girl. What ever I do, what ever I create, I want LOTS and LOTS of color! Why would I confine myself to one or two colors when I can use a bunch? Today I've got tips on how you can make multi-color rubbings. With the tools and tips I've discussed the last 2 weeks, it's easy!
I've been working with paintstiks and rubbing plates for over 10 years. In that time, I've almost always overlapped the images and made an overall print on my fabric — much like making a batik. But as I was making samples from the Happy Holidays plates several years ago, an idea popped into my head. I really liked each of the images just by itself.
I promptly discovered that making a rubbing of a single image (what I'm calling a portrait) is very different than working in overall patterns. I wanted my blocks to be really crisp and clean, without a lot of mistakes around the edges. It took a little practice, but I came up with a method that works pretty well, and I'd like to share it with you.
Stop the Slip with Grippy Mats and Sticky Spray
For the past 2 weeks, I've been sharing my Top Tips for Great Rubbings. If you have just joined us, or you missed those posts, you can read the entries using these links.
1 – Better Tools for Better Rubbings
2 – I Should Use Which Part of My Paintstik?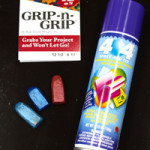 You may be tired of hearing me talk about grippy mats and sticky spray, but bear with me. Our Top Tips for Great Rubbings are incredibly important if you want to make rubbing plate portraits.
Rubbing plates are slippery and you have to tame them to get nice, clean rubbings. A Grip-n-Grip mat on your work surface will keep the rubbing plates from moving around while you work, and a coating of 404 spray on the top of your rubbing plate will keep the fabric where you put it. (Now, if only I had figure this out 10 years ago!)
The side benefit of using 404 spray on your plates is that you can press your fabric onto the plate and actually see where the plate is under your fabric. Here's a a piece of silk that has been gently pressed onto a sprayed rubbing plate. See what I mean?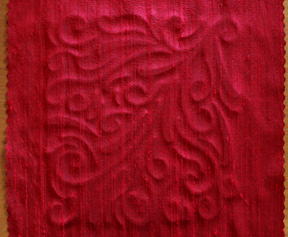 Make a Ghost Image
The next step is to make a very light rubbing to make sure you know where all the edges are. Think of this as a "ghost" image. It's easy to add more paint for a brighter image because the sticky spray is holding the fabric in place.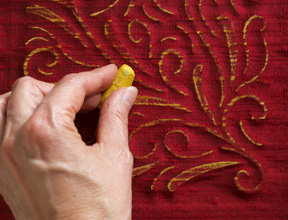 Add More Color
Once you have a ghost image, it's time to add more paint for a brighter image. This is the time to use multiple colors, or just make the image darker. You know where all the design elements are, so it's easier to avoid running off the edges of the plate. At least that is the theory. In the real world, I usually end up with a few boo-boos, and it's almost impossible not to have some drag marks between the rubbing plate images. I'll take about how to fix those next week.
Example: Multi-Color Holiday Lights
Here is a walk through the process with the Lights plate from the Happy Holidays rubbing plate set.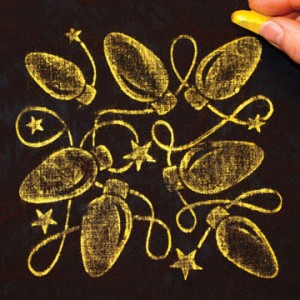 First, I sprayed the rubbing plate with 404 to make it "sticky." I gently pressed the fabric over the plate so I could "see" where the design elements were on the plate. Then I used the SIDE of my paintstik (iridescent light gold) to make a very light rubbing. The purpose of this "ghost image" is simply to "find" all of the design elements on the plate. (I added contrast to this photo — the ghost image does not have to be very bright.)
I definitely use the SIDE of the paintstik to make this first image. That way I don't dip down into the larger openings in the design — where I don't want any paint.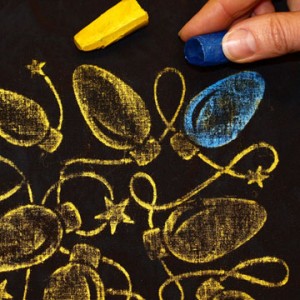 Once I found all the design elements, I used other paintstik colors right over the top of the light gold. It's quite easy to cover up the original color. The lights are pretty big, so I was able to use the side of my paintstiks to add these colors.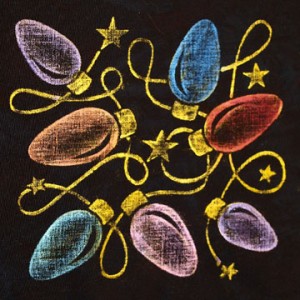 After adding various colors to the string of lights, I used the END of the light gold paintstik to add color to the strings, stars and the caps of the lights. I could go back over these elements with confidence — the ghost image showed me where the elements were — and the sticky spray kept the fabric from shifting on the plate.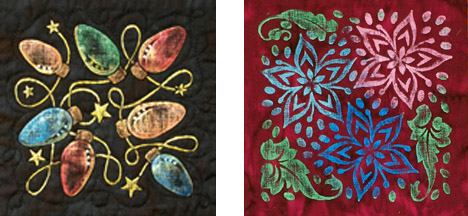 If you follow these tips for multi-color rubbings, you'll be making fabulous Rubbing Plate Portraits in no time flat. Try it — it really works!