by Shelly Stokes, Founder and Creative Mentor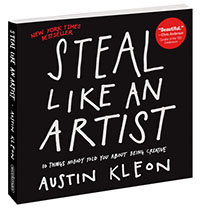 When I got to Chapter 4 of Steal Like An Artist, by Austin Kleon, I felt like he had been watching my struggle to get work done in my office. The first tip in this chapter is called Step Away from the Screen. As a person who spends far to much time on the computer, I thought I should pay close attention to any suggestions on working with less screen time.
In short, this section of the book talks about how working on a computer robs us of the opportunity to touch our work unless we print it out. He goes on to say that while computers are fantastic for editing and getting things ready for publishing, they can be counterproductive to the creative process. It is just too easy to hit the delete key.
As I read, I thought "Oh, yes… I resemble that remark!" I can honestly say that for me, writing and drawing directly on the computer will not produce my best work. I do better work (and get done faster) when I start with paper and pencil.
What to do? Kleon suggests splitting your computer work from your analog work if you have the space. For those who are not "techie," the word analog refers to the old-fashioned non-digital activities like writing on paper, re-arranging sticky notes on the deck of the Titanic, drawing (on paper) and so on.
This is not a new concept for those of us in the quilting, art and craft world. Whenever we have space, we love to have workstations dedicated to specific tasks like sewing, painting, ironing, fabric dying, etc. What is different about Kleon's suggestion is how he applies it to activities we typically try to do on a single desk.
The really cool thing for me was that I was 80% finished with an office makeover when I read Kleon's book. I had just set up a stand-up workstation for my computer and was trying to figure out what to do for a sit-down work area. Kleon's suggestions on a workspace made total sense and I found the perfect table right away. I love when that happens!
Digital Desk / Analog Desk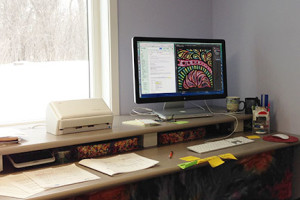 The digital desk becomes the home for all the techie stuff. This is the place for the computer, monitor, scanner, label maker, calculator, phone, etc. If you have to plug it in, it should have a home on the digital desk.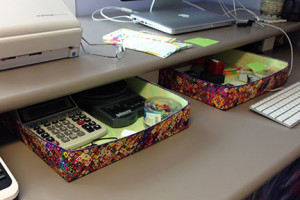 To create my digital desk, I recycled the tops of my old desk and credenza, creating a 2-level desktop. Rather than trying to buy some trays that would fit between the two levels, I made a couple of desk trays from fabric and super-heavy stabilizer. (Think Timtex or Peltex.)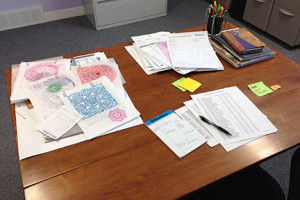 The analog desk becomes home for all the fun stuff like paper, markers, sticky notes, rulers, tape, books, sketch books and so on. This is the work station for thinking, writing, drawing, cutting and generally playing around with your ideas. My new "analog desk" is an old table I found at a local antique shop for all of $50.
While we are on the subject of desks, I have one additional suggestion. If you are easily distracted by Email and all the stuff on your computer, don't look at it! Set up your analog desk so that you face anywhere except the direction of your computer screen. (Or get into the habit of putting it to sleep.) It is much easier to ignore the darn thing if it is not right in front of you. Can you tell I have some experience here?
Create / Edit Cycle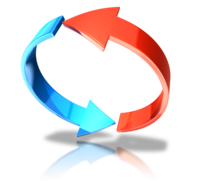 So what do we do with these two "desks?" Move back and forth — a lot! Here is how it works.
When you have a new project or idea, start at your play station to jot down your thoughts, make your initial drawings and create some kind of order. For example, when I write a blog post like this, I do my best work when I make a pile of sticky notes, sort them into an order, and then write a draft.
Once you have your initial thoughts in order, move to the computer and type up a draft, create an illustration, edit a photo, or whatever you need to do. If the project needs more work, print out the piece you need to work on and head back over to your analog desk to play, ponder and make changes. Then it is back to the computer and the cycle continues.
What's Your Best Creative Space Secret?
Do you have a special setup for your creative space? Do tell! Please post a comment here on the blog or over on our Facebook page.