In mid-March, I had a fascinating conversation with Linda Clark (Ontario, Canada). Yes, this is the same Linda who went on the amazing Texture Safari around her home. This week and next, I'll share some of Linda's Design Magic adventures. It's rare that I have the opportunity to share so many good ideas from one of our community members.
Our conversations by phone and e-mail were a real treat — I truly felt like I was talking to my secret sister. We think so much alike it was almost scary — but in a very cool way! Here's a peek at our conversation.

Shelly: I love the way you have experimented with the Design Magic concepts. What inspires you to create, dabble, experiment and take off in other directions?
Linda: I am the student who never does just what the teacher does or says. My quilt can not be just like anyone else's quilt. For all my years, one of my goals in life has been to be different. I am not content to be one of the crowd. And so, my mind is always entertaining ideas on how to personalize everything… recipes, clothes, decorating, and, of course, quilts. And because I have had so many different kinds of sewing experience, I often see how something I learned in another arena can be adapted to my quilts.
I am a perpetual student…I have a large library of quilting/sewing books, plus art/craft books; I take a lot of classes…live and online; I subscribe to several quilting magazines and Cook's Illustrated, plus The Quilt Show and Sharon Schamber Network online. When we think we know everything, we stop learning. I learned a long time ago that there is something to be learned even when we think we've "been there, done that". I guess I get bored doing the same things, so I like to change things up a bit.

Shelly: What is it about Design Magic that appeals to you?
Linda: I have always been intrigued with positive/negative designs, black/white graphics, and stylized images of everyday things. Design Magic marries all three. I also see it as a simple way to incorporate Paintstiks into a pieced quilt.
Shelly: What got you thinking about venturing down the "not quite Design Magic" path? I'm referring to your Split Leaf "Flower" blocks.
Linda: I wanted a flower that looked more like a flower than the positive/negative 4-block image did. I was playing with the coloring of my flower design for a block center and the positive/negative alternating blocks weren't doing it for me.
I feel that the Design Magic blocks look best when there are more than 2 across and down so you see the secondary designs too. I needed a design that would work with just 4 blocks in a 2×2 setting. I was designing a project to teach the Design Magic, as well as another technique for making curvy logs for a log cabin block. After the inspiration for the split leaf flower, I liked it so well, I decided to make a simple diagonal set runner as a sample of an easy project utilizing only 12 painted squares…a good introductory project.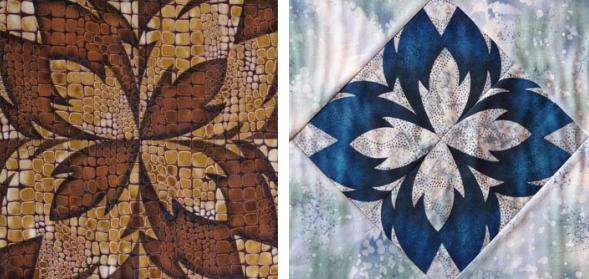 [Shelly here…] The photo on the left shows the standard orientation for the Split Leaf block. The photo on the right shows Linda's variation on the block to create a flower image that would be useful in her table runners.
Linda took this idea one step further and combined her Split Leaf Flower with a stencil brush rubbing. Can you see the difference in the two flowers?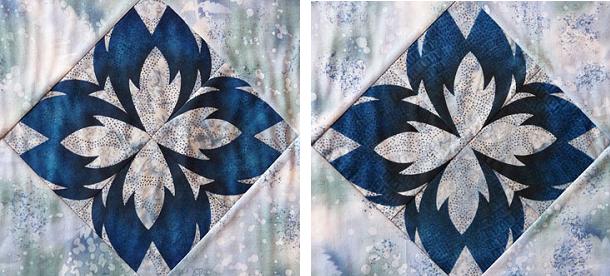 Linda added more texture to the final image with a very simple technique — she put a textured surface under her fabric as she stenciled the Split Leaf images. Cool! I liked this idea so much that I pulled out my paintstiks and did a quick experiment yesterday. I used some of Linda's tips for working with Design Magic stencils to see if I liked them. They work!
Ready for a quick lesson? Read on — and pay close attention to my "you must do this" tip for creating a Split Leaf Flower.
And, before I forget, we'll finish up our conversation with Linda next week!
Ready, Set, Create! — How To Make A Split Leaf Flower
Here's a quick tutorial on making Linda's Split Leaf Flower. I'm sharing a few tips from Linda along with my own.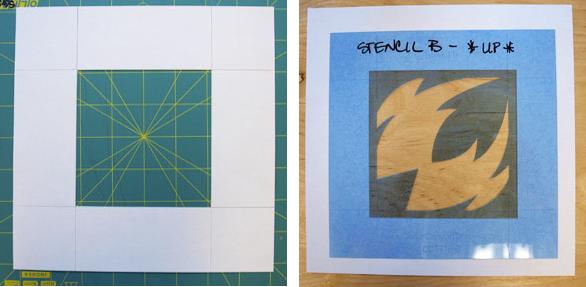 Linda likes to make a frame with a 4-1/2″ hole in it. After spraying the back of her Design Magic Stencil, she sticks the stencil to the frame so that everything but the 4-1/2″ opening is covered with paper. (It picks up less dirt that way…)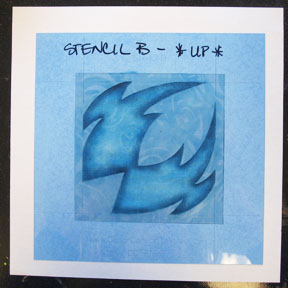 To make the flower, we need to use BOTH sides of Stencil B. I've marked one side of my stencil with a permanent marker so I know which side is up.
In the photo above, you can see that I placed the framed stencil over a square of fabric, added Teal Blue paintstik color (with a brush) and then darkened the edges of the design by mixing Ivory Black with the Teal. The shading gives a more dramatic look.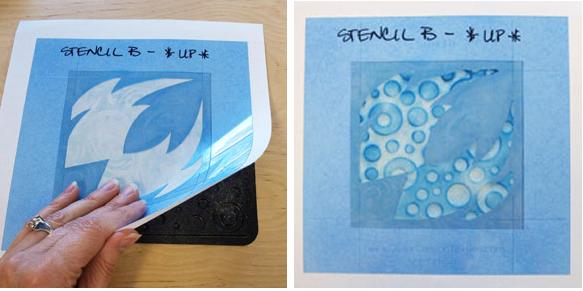 To recreate Linda's textured flower, I sprayed one of my Doodles rubbing plates with sticky spray, put my stencil and fabric on top of the plate, and added paintstik color with a brush. The images from the rubbing plate are quite pronounced in the finished images.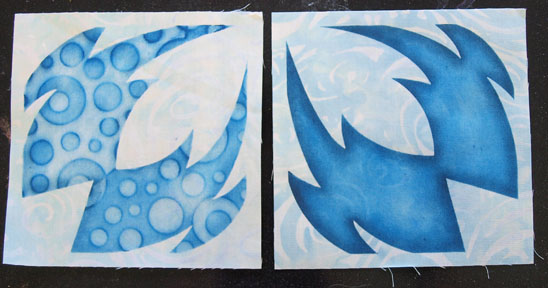 See how different the two images are? Pretty amazing!
Here's the most important point for making a Split Leaf Flower. (Yes, this is the YOU MUST DO THIS bit of information!)
To make a Split Leaf Flower, you must make half of the images using the FRONT side of Stencil B, and the other half of the images using the BACK side of Stencil B. If you don't, the design elements won't match up when you sew the squares together.
I was only making 4 squares for this sample, so I opted not to clean the sticky spray off of my stencils when I turned them over to use the back side. If I were making a bunch of painted squares, I would definitely take a few minutes to clean the stencil, then flip it over and make the second batch of painted squares. (I was in a hurry to get this done — as usual!)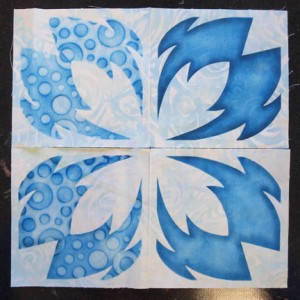 Here are 4 painted images. Two are darker, two are a bit lighter. Do a few experiments to see what you like the best, and you'll be making beautiful flowers to brighten your projects before you know it. Happy painting!
Make Some Magic — and Save Some Green!
If you are ready to make some Split Leaf Flowers, I've got two fantastic ways for you to get started — and to save some money in the process.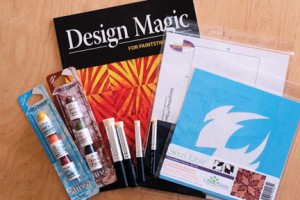 First, check out our Design Magic Sampler. This package contains everything you need to get started on your own Design Magic adventure. You get a copy of the book, a Design Pack, two sets of Mini Paintstik colors, a set of brushes, AND a copy of the Split Leaf stencils. Perfect!
Better yet, you can purchase this pack for the low price of just $66. That's $12 less than our everyday price of $78, and 25% off the price of purchasing the items separately.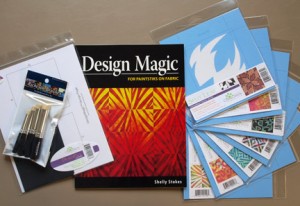 If you just can't decide which of the Design Magic stencils you like best, why not get them all? With the Design Magic Super Pack, you get the book, a Design Pack, a set of brushes, and ALL SEVEN SETS of pre-cut Design Magic Stencils. All you need to do is add some paint — and I'm willing to bet that most of you have a few paintstiks in your cupboard!
Act now to get your hands on this Super Pack for just $99. (That's over $20 off our everyday price, and a full 25% less than the retail value of the package.) Why all the stencils? You'll want the whole range to play with after you see the next newsletter — I promise it will be a good one!
As, always, our special prices are only good for a short time. Get your order in today! I don't want you to miss out on these fabulous deals.