Well, amost anything goes… 🙂
No, I'm not talking about crazy parties, bad behavior or unlimited consumption during the holidays! Anything Goes is the name of my new tote pattern. It's not as exciting as a dash down to the Bahamas for a spur of the moment vacation, but it's a fantastic way to show off your art, use up some orphan quilt blocks or try out my fabulous DesignMagic™ stencils. (Not to mention that these totes are useful, make wonderful gifts and are much easier on the waistline than grazing through the buffet at the office party.)
Now we all know that there's no such thing as too many tote bags or purses. I've got a pile of them at home that my husband looks at with a blank look every so often. (I just smile and tell him to get over it.) I've made many a bag over the years (and worn many of them out!) but my favorite  is still a nice, square tote with a heavy-duty bottom. For the Anything Goes pattern, I decided to recycle a pattern from my fabric-dying days and re-size it to work with my DesignMagic™ stencils.
Anything Goes Tote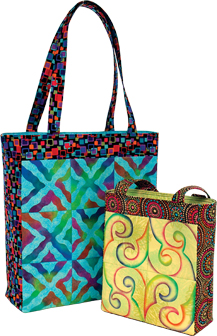 So, let's take a look at my new pattern. First, you get two patterns in one. The Lunch Tote (the smaller one) is perfect for a meal on the go. There's plenty of room for a sandwich, an apple and a bottle of water – chips and brownies are optional. And don't worry about this one tipping over or wearing out right away. The interfacing in the cover and the lining give this bag plenty of body to stand up, and the double-bottom holds up handsomely to heavy use.
The finished Lunch tote is 8″ wide x 3″ deep x 9.5″ tall. I've used a Lunch Tote as a purse when I didn't need to carry a ton of stuff with me. There is a zipper pocket in the lining that's big enough to secure my Wonder Wallet [Lazy Girl Designs] and plenty of room for a few small purchases.
The Office Tote (big sister to the Lunch Tote) is the perfect size for an all-purpose tote. When I need to carry things to and from the office, this is the bag I grab. I can carry my laptop, a bunch of files for a late night writing binge, or take my latest projects to share with my quilting friends.
The Office Tote is 12″ wide x 4″ deep x 14″ tall and it features the same hidden-zipper pocket in the lining as the Lunch Tote.
Sized for Design Magic – of course!
The front and back panels for these wonderful totes can be made from almost anything. You can use a simple piece of fabric, an orphan quilt block, an experiment from your favorite fiber art technique, you name it. Truly, anything goes!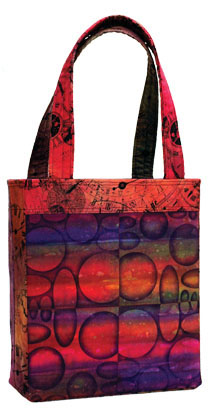 In reality, I sized the panels for use with my DesignMagic™ stencils. The finished size of the panels are 8″ x 8″ and 12″ x 12″ because that's what works for the pre-cut stencils.  And since I'm the Design Magic lady, the pattern includes complete instructions for painting the panels using my stencils and Shiva® Artist's Paintstiks®.
You can use the Primrose stencils included in the Design Magic book or any of our pre-cut mylar DesignMagic™ stencils. You can even make your own design and stencils using the 3-step process in the Design Magic for Paintstiks on Fabric book for a completely original creation!
I made this Lunch Tote from hand-dyed fabric in my stash, the new Bubbles DesignMagic™ stencils, and a Dioxazine Purple paintstik. (One of my goals is to actually use every color of paintstik we have – so this checks one more off that list!) I'll post more about Bubbles and our other new stencils shortly.