Quilt Market is a whirlwind event lasting less than a week, but looks can be deceiving. Preparation for fall market (there are 2 each year) begins before spring market occurs. That's right — we start on fall market before we get to the spring event. It's a little mind-boggling to say the least.
The first thing that we do is submit our application to teach those wonderful 8-in-the-morning classes that happen at the beginning of each day. That's the piece that happens 8 or 9 months before each market is held. Frankly, I find it interesting to plan a class for something I don't even have in hand yet, but that's the big world of business for you!
About 4 months before market, we have to submit our booth applications (with payments, of course), apply to teach Schoolhouse sessions, write our company descriptions for the big catalog, and all sorts of trivia. That's trivia — not to be confused with trivial. Miss a deadline and you can find yourself with virtually no information in the catalog and standing in line at Houston to get name badges printed.
In the mean time, we are working on our new products, which can take 6 months or more to get through the development process. Product announcements need to be out to our distributors (the suppliers to your local quilt shops) a good 3 months before Quilt Market so they can get ready for market too. Then we have the ads for the magazines, and all that good stuff. It's a good thing I have a highly organized assistant. It heads off that "my brain is going to explode" feeling that creeps up more than once in a while.
About 3 weeks before market, my good friend and travel companion Mary comes up to the office for a day. We boot everyone else out for a day in order to pack up the display, class materials and product that will be shipped for our booth.


A big part of our day is planning what to hang up on the "walls" in our booth. It's easiest to lay it out on the floor in the office. (That's why we kick everyone else out for the day — we can't have anyone walking all over our pretty display!) It's a wonderful day when the market shipment heads out the door in a brown truck. We can finally walk around the warehouse without tripping on stuff.
Then it's on to the list of little things that I didn't get done in time for our big shipment. And yes, there is always a list of those little things. I think I should take over Robbi Eklow's title of "goddess of the last minute." Or at least borrow it twice a year. (For the record, Robbi writes a wonderful column in Quilting Arts magazine titled Goddess Of The Last Minute — check it out!)
When we arrive at the convention center and find our booth, I always do a little happy dance and give my pallet of boxes a big hug! Woo hoo — everything has indeed arrived!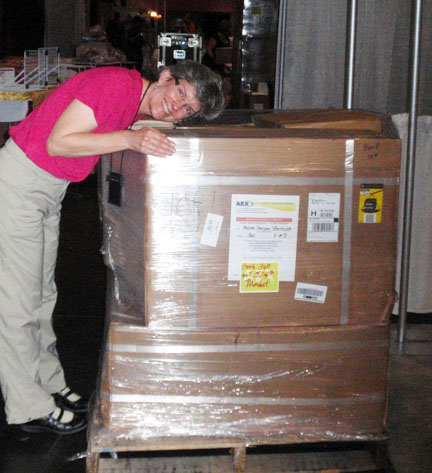 As much as we like to complain about the cost of getting stuff delivered to our booth, I find it perfectly amazing that the exposition service gets shipments from hundreds of vendors and generally gets them all to the right spot. Yes, stuff happens. But I've been very lucky. Every time I arrive at my booth, all of my cartons are wrapped on a pallet and waiting for me. Now we can get to work!
Day 1 is setup time. Mary and I do our best to get all the structural stuff up and ready. We hang and steam the curtains, hang the lights, get the tables skirted and covered and hang samples until we're tired and ready for dinner. Then it's off to dinner and the grocery store where we stock up on goodies for our lunches.
Day 2 brings Schoolhouse sessions and final setup. Schoolhouse is an 8-hour day-long extravaganza of short informational sessions for the shop owners to attend. It's on a super tight schedule. Sessions are 15 or 30 minutes long with just 5 minutes between sessions. Whew! This year I have 2 schoolhouse sessions, right around noon. I hope everyone is not eating lunch!
At the end of day 2, many vendors participate in the big Sample Spree late-evening shopping event. I don't. No way. I usually have an 8am class the next morning, so there is no way I'm going to take part in that crazy event. I need some sleep before the exhibit hall opens.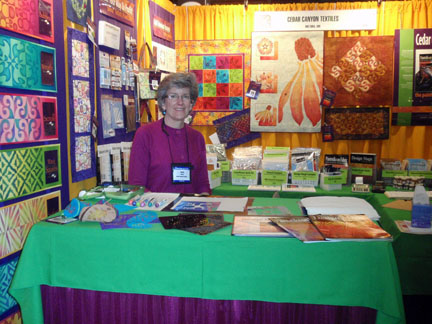 Here's a quick photo of our booth last spring — before the hall opened and we got swamped with visitors. The only thing missing in this photo is my signature apron. Most people at market don't recognize me without it!
Day 3-5 are the "official" days of Quilt Market when the exhibit hall is open. We get up very early (often 5:30) in order to get to the convention center in time to teach class at 8am. (That's the classes we applied for 9 month ago…) After class, we have a full day of demos and conversations in the exhibit hall, followed by dragging our fannies out the door to dinner and doing the day's paperwork.
The final day, of course, ends with tear-down. What goes up, must come down, and quickly. They actually have a pretty short time frame for getting everything packed up and out of the convention hall so they can start reconfiguring the hall for Quilt Festival, the big open-to-the-public event. Once our boxes are packed and the shipment is turned over to the expo staff, Mary and I head out to our favorite steak house for a hard-earned dinner. Then it's one last night at the hotel before winging our way back to Minneapolis. And we'll be very glad to be home!
That's your "behind the scenes" look at Quilt Market. I get a kick out of friends who tell me they would just love to come and work for me at market. I always chuckle and tell them to be careful what they ask for! It's fun and exciting, but it's a lot of work. And frankly, we get very little time to wander around to check out the other vendors. But that's good — it means we're talking to customers!
Have a wonderful week. I'll check in with you when I arrive home next week.