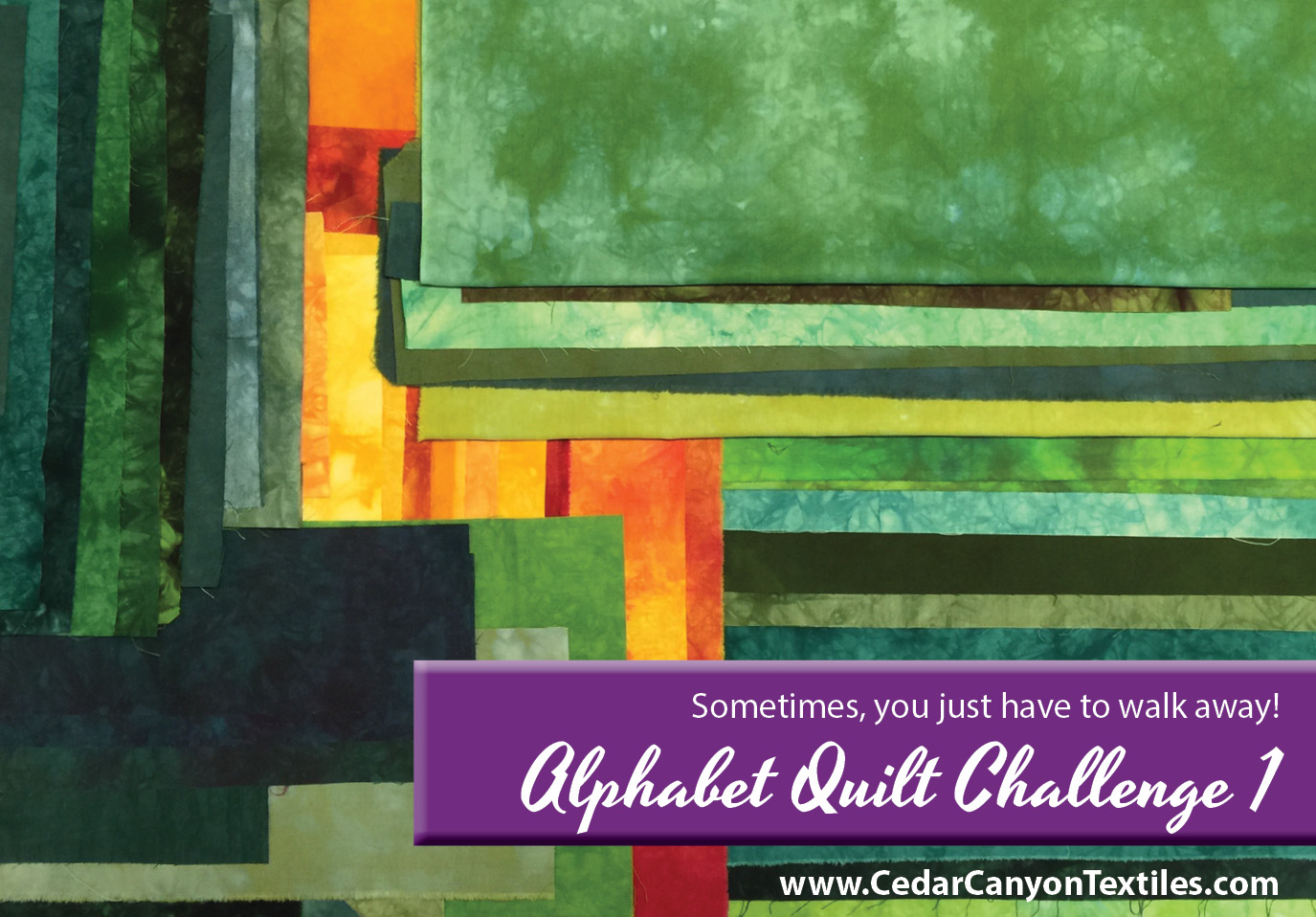 If you pay any attention to the financial news, you have probably heard that Google has rearranged its corporate structure under a new holding company by the name of Alphabet. I'm not sure how they picked the name, but they certainly aren't the only folks playing with letters these days.
The DIVAS (my small quilt group here in Alexandria) are participating in an Alphabet Quilt Challenge of our own. We have to make a 20×20 quilt using a color, quilt block or technique, and a quilting motif that start with the letters of our initials.
My initials are SGS, so I went off in search of color names, quilt blocks/techniques and quilting motifs that start with S and G. (I was feeling a little boxed in by having only 2 letters to choose from, but I got over it.)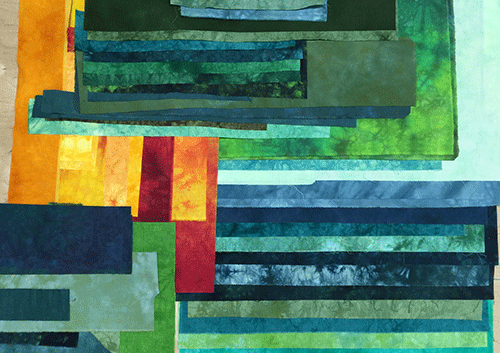 After looking at color names, I decided to go with Green. I pulled out every piece of hand-dyed fabric from my stash that could be called green, and laid them out on the table with some yellow/orange/red for contrast.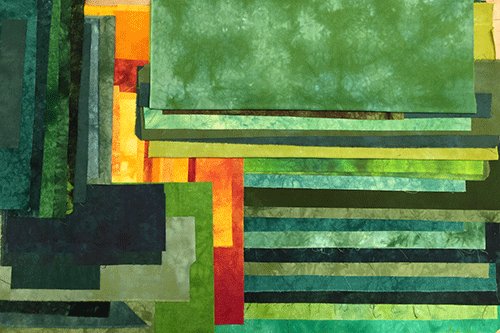 After taking a quick photo, it was clear that some of the pieces were too "blue" and one was much too light. So I pulled those pieces out and took another photo. Ah, much better. There is a ton of variation, but the fabric collection definitely reads GREEN. (One of the few rules for this challenge is that our quilt has to be predominantly from our chosen color.)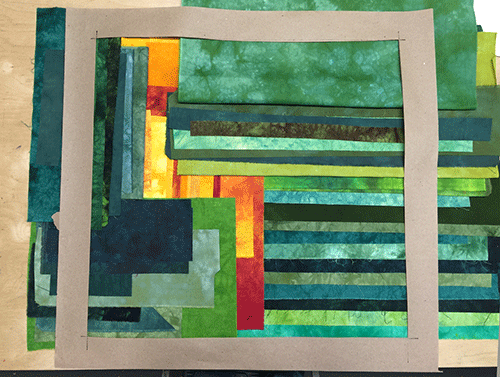 My first inclination was to make a strip quilt using Seminole piecing techniques. Then I discovered that I no longer had a book on that topic. Plus, I was rather enjoying the composition that appeared when I placed a paper border over the fabric to get an idea about size.
Hmmm… I could do a String-pieced quilt. That starts with an S – and gave me a whole lot more freedom than using a traditional block.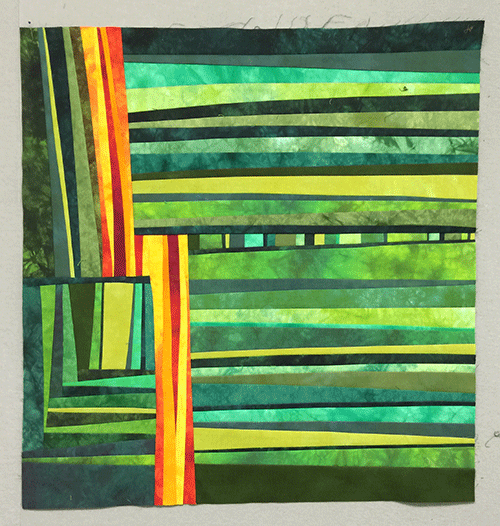 As I often do when I have a studio day with no particular agenda, I plunged ahead without really stopping to consider how the piece was coming together. Note to self… You have a design wall for a REASON, and should use it more often!
While I did create a composition that resembles the photo I started with, I didn't like it. As in I Did Not Like It At All. (Please tell me I'm not the only one that does this!)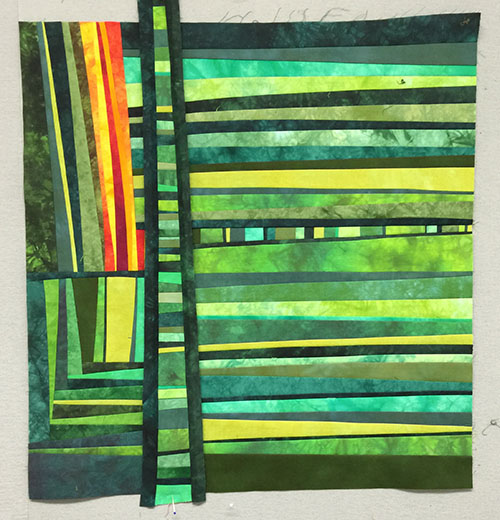 I was still in the mode of plowing ahead instead of walking away, so I created another component – another long narrow strip that could be used in place of some of the yellow/red.
I was about to chop up the first composition to insert this strip when the message to Walk Away and let this percolate finally got through to my brain. You know, the one that says, "Put that rotary cutter DOWN, step away from the sewing machine, STOP before you totally make a mess out of this thing!"
I left this hanging on the design wall for a few days while I work on other things, and I'm so glad I did. After waking up from a nap a couple of days ago, I had a great idea for rescuing this composition. It fits perfectly with my "SGS" Alphabet Quilt Challenge rules, and I'm confident that it will be a big improvement.
Your Turn
Do you find yourself plowing ahead when you really should take a break – or is it just me? Do you have a favorite way to put something "on the back burner?" Leave a comment. I'd love to hear your thoughts.