By Susan Stein  
Some coloring agents are not meant to work on fabric, but that doesn't mean that quilters can't play with them! In today's lesson we'll be using Alcohol Inks, which are made specifically for non-porous surfaces. These inks are very different that the textile paints that we are more familiar with, so take some time to play with them. I'm sure you'll find ways to integrate them into your personal art!
Supplies: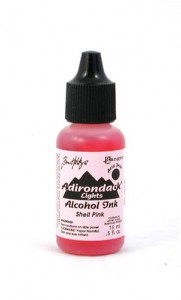 ~ Birch Leaves stencils [Cedar Canyon Textiles] ~ Thin copper sheeting [hobby or art store)] ~ Ball point pen or pointed stick
~ Alcohol ink, 3 colors [Adirondack] ~ Acrylic felt 9" by 12"
~ Tool for embossing metal (optional)
~ Goo Gone™ citrus cleaner
~ Q-tip
~ Spray fixative
Additional Supplies for Wall Hanging
~ Fabric (border, binding, backing)
~ Sewing machine
~ Thread
~ Batting
Step 1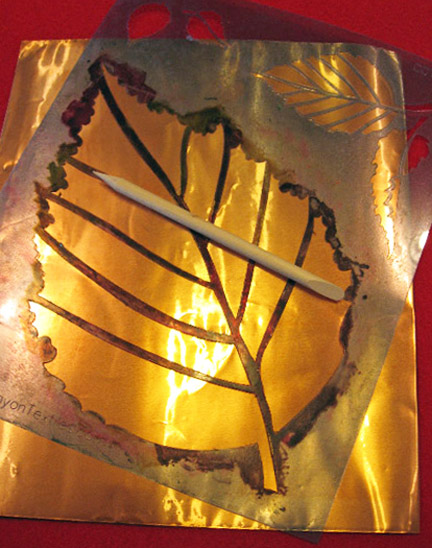 Lay the copper piece on the felt and adhere the stencil to it with tape or spray adhesive.  Draw around the stencil with a ballpoint pen or pointed stick to indent the metal.
Step 2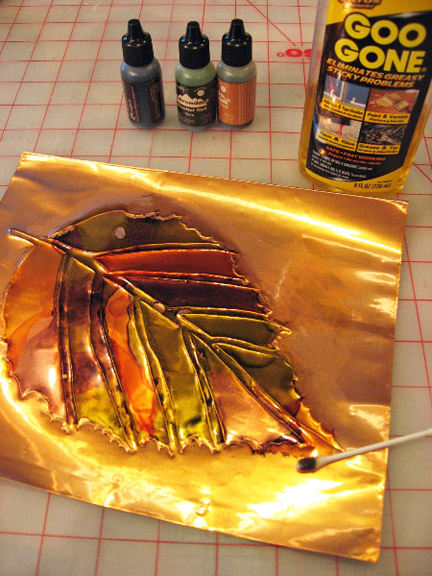 Paint the copper (either side) by dripping alcohol ink onto the leaf motif.  The ink works differently from other paints, so play with the possibilities.  If some ink goes outside the lines, wipe it off with a Q-tip and Goo Gone.  Let dry.
Step 3
Heat the copper if you like brighter color by holding a heat gun over it until it changes color.  Spray the metal on both sides with fixative to seal the copper and prevent it from oxidizing.
Bonus – Create a small art quilt!
Art Quilt Step 1
Add borders to the copper piece, using a long stitch length and sharp needle.
Art Quilt Step 2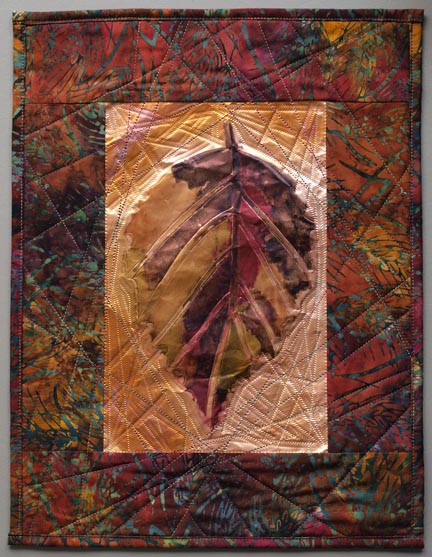 Layer with batting and backing.  Quilt across the borders and copper around the leaf, which will raise the leaf slightly higher than the background.  Bind the edges.
Art Quilt Step 3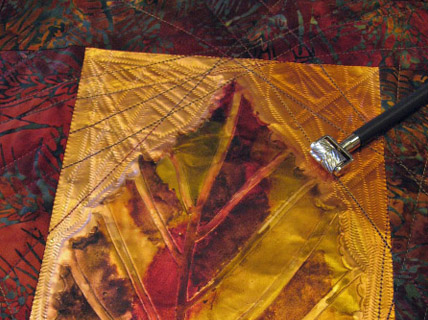 Use the embossing tool to make patterns on the background of the copper if you like.