You may not know it, but I've always considered myself "allergic" to needles and thread. Yes, I confess. I've pretty much avoided hand-work for all the years I've been playing with quilting and fabric art. After the past week or two, I think it's safe to say that's going to change.
As I mentioned in one of my earlier posts, I'm no expert on stitching and embroidery. It's not that I can't do this stuff, it's just that I've never bothered. Like many of you, I'm usually in a hurry and I wind up either skipping the extra step or doing my embellishments using the sewing machine. Does that sound familiar to you?
Well, let me share something really cool with you. No matter how old we are, we really can learn new tricks – seriously!
Go Over The Top With Stunning Stitches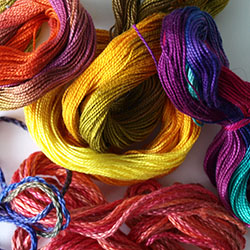 The fact that I have not done a lot of handwork never kept me from buying beautiful thread. Nope – I've got a small, but very nice collection of truly beautiful threads. See – I'm just like you. I collect all kinds of beautiful stuff in hopes of "having time someday" to make use of it.
And now that I've admitted to dipping into my threads, I'd like to share what I did with them. To do this, I'll relate each of the 4 types of stitching I used to a common design principle.
Now, do me a favor here. Don't tune out just because I said "design principles." Really, we're not getting academic here. I just want to share why I added each type of stitching, and how I hoped it would make my Shape Shifter fabric more interesting. I'll let you be the judge of whether or not it worked.
1. Define by Dividing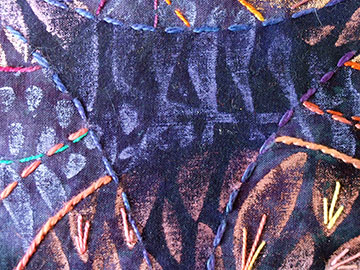 First, I wanted to DIVIDE the background areas from the foreground areas. Back in the post called Shape Shifters 4: The Final Layer, I used a dark purple paintstik to add the look of a sheer fabric overlay.
I used a dark purple/blue/green variegated thread to DIVIDE the "overlay" from the rest of the design elements on my fabric.
2. Emphasize the Star Attraction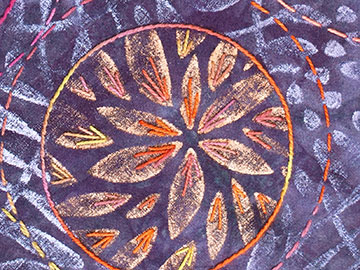 Next, I wanted to EMPHASIZE the circular designs. I started this by doing a running stitch, but decided that wasn't bold enough. So I took out the stitches and went with a solid back-stitch to outline the circles.
3. Rinse & Repeat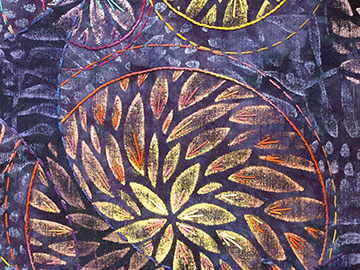 Once I outlined all the circles, I had a definite polka-dot thing going on. Do you know what I mean? I thought "Oh, my… how do I make this feel more integrated and less 'dotty?'"
Taking a clue from my shampoo bottle, I decided to see what would happen if I used REPETITION to add yet more circles to the design. (I figured it was easy enough to remove the stitching if I really hated it.)
I plunged ahead and added yet more circles to the fabric, this time with long running stitches. You see, I wanted to use the REPETITION concept, but I also wanted the second set of circles to be a little more subtle. What do you think? Did it work?
4. Add Subtle Sparkle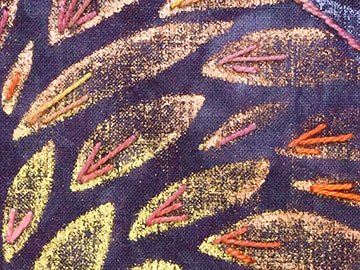 Last but not least, doing all this stitching to outline and enhancing the circles, my floral designs were looking a little bare. I needed some stitches inside those circles. But what to add? I didn't want to distract from the design of the rubbings.
After pondering for a while, I decided to add simple stitching to each of the little "flower petals" that ENHANCED the design without drawing the eye away from the rhythm of what was already going on. The stitches in the petals are a subtle surprise that you only "see" when you get up close, but they really add to the overall texture of the fabric.
Did I Meet My Goal? Let Me Know!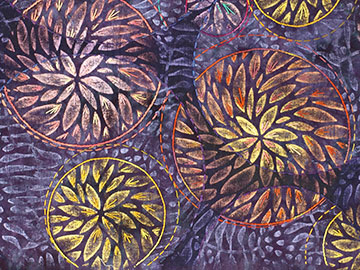 Well, here's your chance to chime in. Did I meet my goal of making my Shape Shifter fabric more interesting? Is there something you would do differently? Leave a comment here on the blog, or join the conversation over on Facebook.