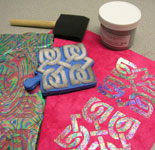 Foil was one of the first fabric embellishment toys that I learned about back in the late 90s, even before I learned about my beloved paintstiks. (Oh my goodness! Has it really been that long?) I took a class in St. Paul from Laura Murray at a lovely quilt shop that is no longer with us. The class was fun, I fell in love with foil, and was delighted to add some "shiny stuff" to my growing arsenal of tools for adding glitz and glamour to my fabric art projects.
So, what exactly is this "foil" we're talking about? Foil is a high-gloss metallic material that pulls away from a clear backing. It comes in a multitude of wonderful colors and it's easy to work with. You can use foil adhesive, fusible web, even Bo-Nash Bonding Powder to "stick" foil to your fabric with a little help from an ordinary iron. Here are a couple of lovely samples. The first is a single piece of fabric, and the second is a collage by Laura Murray. All of the designs in the samples are from Cedar Canyon rubbing plates.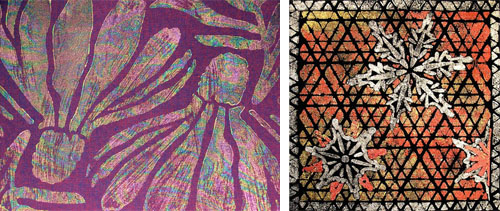 Adding Foil Accents is also Technique #4 in my Rubbing Plate Roundup book. (I bet you could have guessed that…) It's really easy transfer rubbing plate designs to fabric or paper by using the rubbing plate as a stamp. You simply apply the adhesive to your rubbing plate, stamp the adhesive onto your paper or fabric, then apply the foil.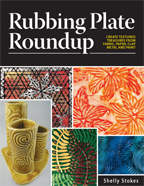 To be honest, there's a bit more to it than that. Important little things like allowing the adhesive to dry COMPLETELY – and some important tips on exactly HOW to use an iron to transfer the foil. But have no worry, with a copy of Rubbing Plate Roundup in hand, you'll have all the instructions you need to add eye-popping shine to your fabric or paper project. If you don't have a copy of the book, simply order today and we'll make sure it's on the way to your mailbox in short order!
When you want foil, go directly to LauraMurrayDesigns.com. Laura's site is, without question, the best place I know to order your foil supplies.
Collaborator Corner: Meet Laura Murray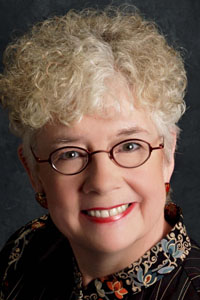 As I mentioned earlier, I took a class on foiling fabric from Laura a dozen year ago. She is a talented fiber artist, award-winning quilter, successful entrepreneur, one of my best customers, and, I'm happy to report, a very good friend. I'm blessed to have her in my life. When I set out to write Rubbing Plate Roundup, I went straight to Laura and asked her to provide the section on foil.
Laura has been teaching people how to use foil for as long as I've known her, and I could not think of anyone better qualified to give us the low-down on using foil and rubbing plates to spruce up our fabric and paper projects. Here is more about Laura and some inspiration you can use as you spend some play time in your studio.
Artist, entrepreneur, teach and author, Laura Murray loves to experiment with textile color and texture. Her work, which appears in books, magazines, quilt calendars and DVDs, includes wearable art and award-winning quilts. Laura's passion for surface design led her to design a stencil collection and a series of stamps from her favorite images. Her stamp line includes several sets of StarBuilders and she wrote a companion book called StarBuilder Inspirations.
"One of my favorite design approaches is layering shapes. I like seeing lots of possibilities without making the kind of commitment that sewing strips together requires. Years ago, I learned to weave narrow strips of fabric without using a loom. The effect is like a checkerboard, or lattice.
"I am very fond of paintstik rubbings, and often use my unmounted stamps as texture (rubbing plate). For the past several years, I've been working with a technique that I call Stackers, which consists of stacking three different size squares one on top of the other (each layer backed with fusible web), and creating seemingly complex blocks without sewing. (For complete information, visit www.lauramurraydesigns.com/projects/stackers.php)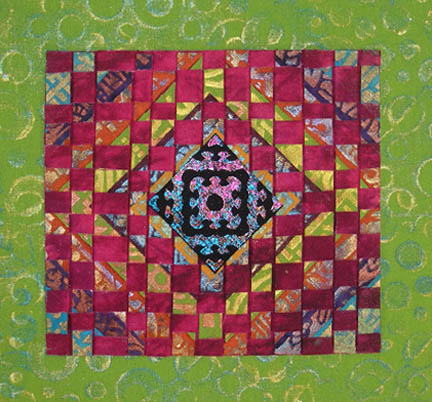 "Recently, I was curious about what would happen if I cut a 3-layer stacker into strips, and wove the strips with a contrasting fabric. As you can see, the result is very exciting! In case you are wondering, the woven design is 5.75″ square, and the strips range from 1/4″ to 3/8″ wide, making the weaving easy to manage. I used foil to create the image in the center square, and then fused it to the top of the woven strips. I created the border by making a paintstik rubbing with one of the Doodles rubbing plates on a lime green cotton."
[Shelly here] If you love color and texture as much as I do, you really should spend a few minutes peeking around Laura's amazing website. Be sure to check out her stencils and unmounted stamps. They are gorgeous!
Learn More About 404

If you've read any of my books or watched the video clips in the Learning Center, you know that 404 spray adhesive is one of my favorite "secret weapons." I just got word from Jennifer O'Brien that they have a new website that describes the difference between all of their adhesive products and has a good FAQ page for each type of spray. Here are the links for information and ordering.
www.SprayAndFix.com will automatically redirect you to www.odifusa.com (ODIF is the the European company that makes the Spray & Fix products.)
To purchase 404 or any of the Spray & Fix products, place your orders at Sew-Craft.com.