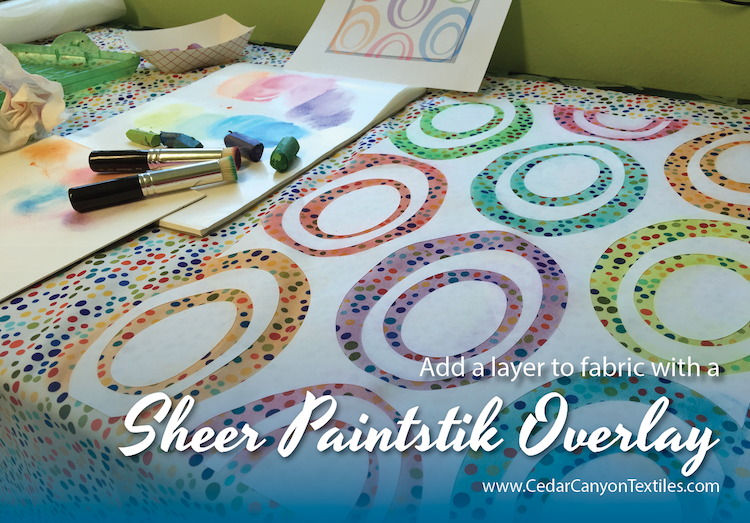 With the next Whole Cloth Collage course starting in a few weeks, Art Brain is having lots of fun with the idea of Sheer Paintstik Overlays. I feel like my brain is in a popcorn popper once she gets rolling, but I'm not complaining. When Art Brain is having fun, I'm having fun!
So… what exactly is a Sheer Paintstik Overlay? And why is Art Brain so excited? Let's take a look using an off-the-shelf piece of fabric.
The actual fabric is the white with the small multi-color dots. It's a nice piece (for a small-scale print), but it would be a whole lot more exciting with some large scale design elements. So…
I took a photo of the fabric, dragged it into the Silhouette Studio software, and drew a bunch of semi-transparent oval shapes over the top. I was curious if I could add these shape to my "real" fabric without spending a bunch of time on this.
I used my handy-dandy Silhouette Cameo to cut a mask from a large sheet of label (sticker) paper and placed the shapes on the fabric. So far, so good.
The painting was fast. Maybe 20 or 25 minutes. (This is one time when a tiny bit of paint goes a long way!)
Here's the finished fabric. It looks pretty darn good for an experiment done in less than an hour. If I were doing this for a finished project, I would probably add a bit more paint. And some stitching. Art Brain thinks some outline stitching would really make this design pop!
At any rate, I like the way I can customize a commercial print – in a hurry – in three simple steps. Preview (in the Silhouette software), Cut (with the Silhouette Cameo) and Paint (with Shiva Artist's Paintstiks).
For the record, this can all be done without a computer or cutting machine. But I have to say that I love the ability to preview my idea without cutting or painting anything. And the cutting, of course, is much faster with the machine.
Adding a Layer to Hand-painted Fabric
Now… playing with commercial fabrics is fine, but this technique really shines when it is paired with hand painted fabric.
In the Whole Cloth Collage course, we create some pretty amazing fabric with Paintstiks, textures and masks. The painted fabrics are quite lovely, and adding a Sheer Paintstik Overlay makes them even better!
Using an overlay, we can play with the design elements of repetition or contrast. It can be more of the same or something totally different.
Did I mention stitching? The overlay and the underlying design are a perfect palette for lot of fun with beautiful thread!
Whole Cloth Collage Begins September 19th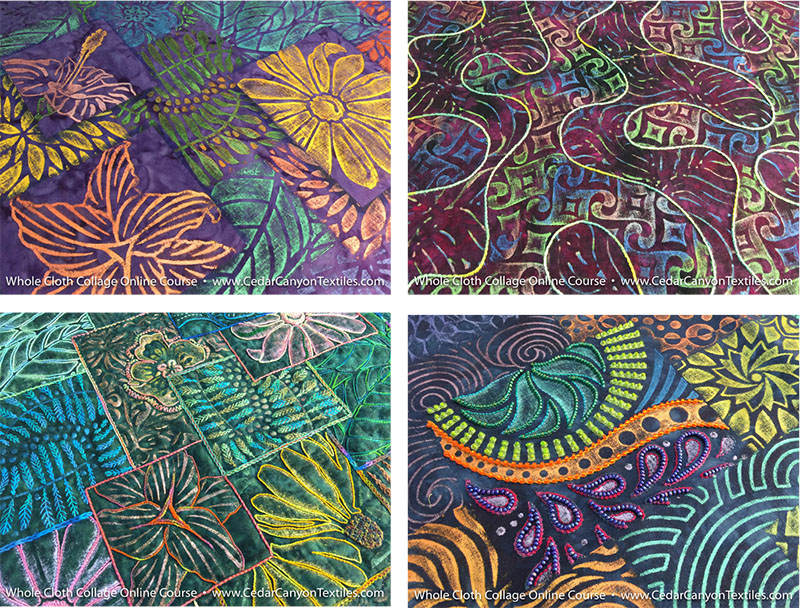 If you're a Paintstik rubbing fan and like the idea of a sheer Paintstik overlay, the Whole Cloth Collage course is the place to be! We'll explore the ins and out of how to choose a design element for the overlay, how to create the mask, and which Paintstik color will give the best results. (Just for the record, there's no techie stuff required! You can absolutely do the entire course without a cutting machine.)
For all the details on the course, click the button below!
Whole Cloth Collage Course Info
Your Turn
Do you have a favorite way to modify commercial prints? Leave a comment below. I love to hear your ideas!