by Susan Stein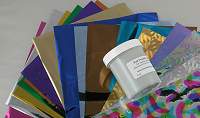 Shiny foils are a wonderful way to add glitz to your fabric art project. Foils will adhere to fabric with a special adhesive or with fusible web. Please note the care instructions at the bottom of the post, as foils are not as durable as many other embellishments.
Supplies:
~ Maple Stencils [Cedar Canyon Textiles] ~ Fabric
~ Foil for fabric [www.LauraMurrayDesigns.com] ~ Foil Transfer Adhesive [www.LauraMurrayDesigns.com] ~ Sponge or sponge brush
~ Spray adhesive like 404™ [Spray and Fix] ~ Iron, preferably one with Teflon™ coating
~ Ironing surface
Step 1
Spray adhesive on the back of the stencil, let dry, and press onto the fabric.  Fill in the openings in the stencil with foil transfer adhesive.  As with all liquid products, dab up and down when stenciling, so as not to push paint or adhesive under the edges of the stencil openings.  Let dry thoroughly (several hours).
Step 2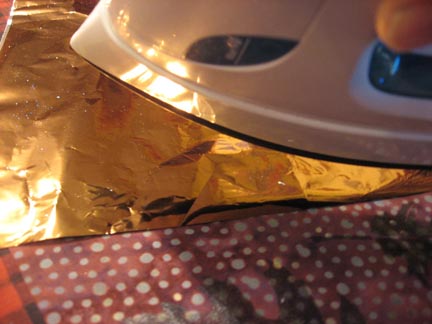 Place the prepared fabric on the ironing surface and lay a sheet of foil- color side up- over the adhesive design.  Using the side edge of the iron, burnish over the foil sheet three or four times.  Let the fabric cool a bit and then peel off the foil sheet.  If there are some areas of adhesive not foiled, take a second color and repeat the burnishing process.  It works well to use foil sheets that are beat up and have only thin layers of foil left on them so that the image has nuance and more colors can be used.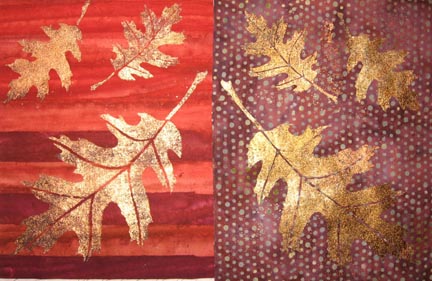 Here are a two fabrics with foil applied.
Care Instructions
Care for the foiled fabric by hand washing.  Do not dry clean.  Always use parchment paper or a Teflon press sheet when ironing over the foil.
Foil with Fusible Web
Another way stencils can be used with foil is to use them to cut out shapes from Wonder Under.  Trace a design on the paper side of the fusible web using the stencil, cut out the motif, iron it to fabric, remove the paper, and foil the adhesive as described above.