Jack and I took advantage of the warm weather on Sunday for a walk through Glendalough park for my birthday. He stopped me after a few minutes and handed me this beautiful maple leaf. Most of the trees are still green, but this one has started to change.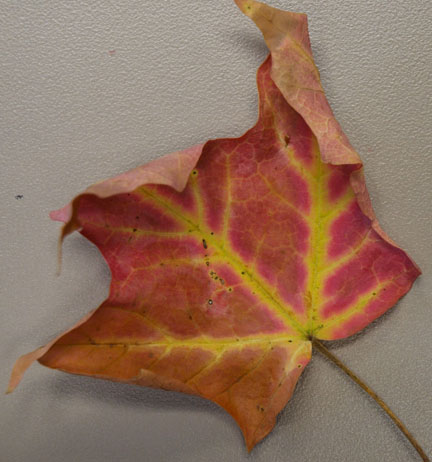 While we were walking though the woods, I was trying to identify various trees. I found maples, 3 different oaks, birches and elms along with various others that were not so obvious. It reminded me of the stencils that Nancy Kazlauckas designed for us a few years ago.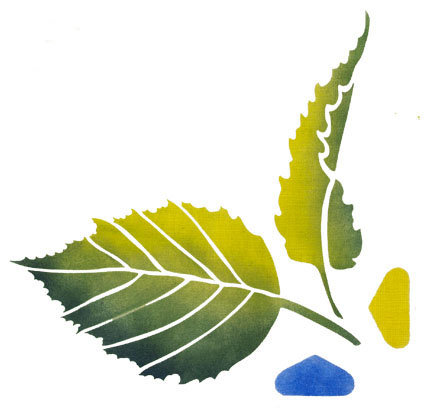 Nancy made a series of fantastic drawings that we used to create our early sets of stencils. They are truly timeless. This image from the Birch stencils is one of my favorites.
We have 4 sets of stencils representing Oak, Maple, Birch and Ginkgo leaves. Each package contains a pair of stencils with one large image suitable for a quilt block or a journal page and various small and medium-size images.
You can click over to the Online Store to see all of our stencils. If you click on the Info button for one of the stencils, you'll see a color photo of one leaf stenciled with paintstik colors. You can also click on a second image to see a black and white illustration that show the various leaves on the pair of stencils. Here is a link to the Birch stencils.
Choosing Colors for Autumn Leaves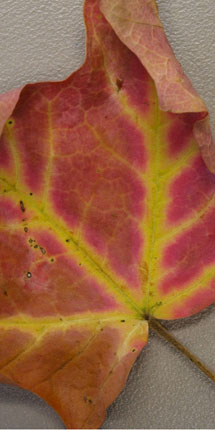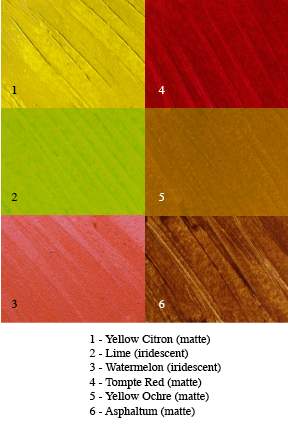 As I looked at this leaf, I wondered which Paintstik colors I would choose if I wanted to paint it – and whether we actually had all of these colors. I pulled out my boxes of paintstiks and was pleasantly surprised that the colors were all there. (Yes, I really have boxes of paintstiks – I have them all!)
I chose colors from both the matte and iridescent color lines. I started with Citron Yellow and Lime Green for the bright veins. I choose Watermelon and Tompte Red to add the red-orange colors. Finally, I chose Yellow Ochre and Asphaltum to add the golden brown colors.
I often mix iridescent and matte colors when I paint, especially when I'm working on a lighter background. The only time you'll really see the shimmer of iridescent colors is on a dark background.
When choosing colors, it's easier to look at the color swatches than the paintstiks themselves — and it's easy to do. The swatches are all available in the online store for easy viewing. The swatches are a great resource whether or not you're in the mood to shop. Many of the matte paintstiks colors are very dark in the stick form — it's much easier to "see" the color when it's painted out. (Besides, I had a wonderful time creating the swatch library, and I'm happy to share it with you!)
To choose colors for your own autumn leaves, use these links to access the Matte Colors and the Iridescent Colors.
Enjoy the beautiful autumn colors ahead. Take some photos, take a really close look, and see what color combinations you choose to add some fall splendor to your art!