I haven't done much traveling for a while due to health issues (which are much better now, thank you!). And frankly, air travel just isn't much fun any more. So when I have the opportunity to take care of 2 big events in one trip, I'm a pretty happy camper. The last week of August, I headed off to Ohio for the Checker Distributors Anniversary Open House and to do some more filming for Quilting Arts TV.
I flew into Cleveland and drove to Maumee, home of Checker Distributors. It's pretty amazing to see how they transformed a part of the HUGE warehouse into a really nice space for authors and vendors to visit with the shops owners that came in for the day. If you want to see more about the open house, go to the Checker Newsletter and search for "Open House Review"
I was stationed next to Rayna Gillman, author of Create Your Own Hand-Printed cloth. We had a great time making a mess as we showed the shoppers how to transform fabric with paintstiks, liquid paints, rubbing plates, stencils, masking tape, and miscellaneous other stuff. (How's that for a technical term!) Near the end of the day, a nice tall gentleman took a photo of us. Hard to believe we were still smiling after being on our feet each day, but it really was lots of fun. There were about 200 shops at the event, so we had LOTS of people to talk to.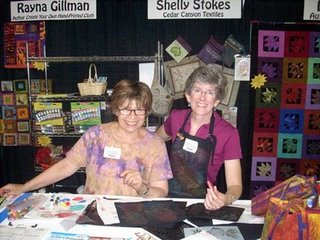 In addition to the usual paintstik demo, I was showing people how to use paintstik color to paint zippers, velcro, and Handy Tabs from Lazy Girl Designs. I'll share more about this in another post, but Joan (chief Lazy Girl) and I had a good time sending customers back and forth. I used Joan's Handy Tabs to hold the handles on my new Bosa Nova Bags, and Joan sent people over to me to see how they could paint the tabs if they need a different color. We're all in this together, so we may as well help promote each other's businesses.
Here's a sneak peek at the new Bosa Nova Bags. No, the pattern has not gone to the printer yet, but yes, it will be ready for fall Quilt Market at the end of October. You'll just have to wait! The Handy Tabs are just wonderful because 1) you just pull them out of the bag and stitch them right into a seam when you need to hold a handle or drawstring (or whatever) and 2) there is no added bulk. If you make your own tabs, you always wind up with some lumps from the extra seam allowances (and it takes time to make them and I am learning to be very LAZY!) Visit the Lazy Girl Designs site for more good information on these neat little tabs.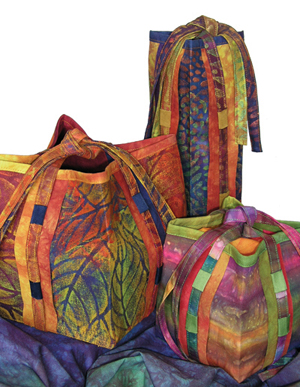 A big thank you to the wonderful staff at Checker for taking good care of us during our visit to Maumee. If we needed any thing, we just flagged down anyone in a blue Checker shirt, and they got it done. Things should always be so easy!
After a welcome night of rest, it was off to Cleveland again for Quilting Arts TV… but more on that later.