In an earlier post, I talked about cleaning brushes, but let's step back and talk about the different types of brushes that can be used with paintstik colors.
Paintstiks are really dry (compared to liquid paints), so any brush we choose to use needs to be fairly stiff. For the most part, I use stencils brushes. But, all stencil brushes are not the same. Some have long bristles, some have short. It's just another case of the right brush for the right job.
For the most part, I use two types of stencils brushes. One is a standard stencil brush with long bristles. The second is a denser brush with short bristles. Here's how I use them…
Standard Stencil Brushes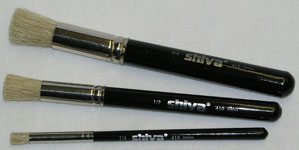 Most paint companies make various grades of stencil brushes, ranging from inexpensive to exorbitant. These brushes are fairly dense, usually flat across the top, and have bristles about an inch long, give or take. The brushes are wonderful for stenciling with liquid paints using a pouncing motion, but have to be used a little differently with paintstiks. (You have to apply paintstik color with a scrubbing motion because the paint is so "dry.")
Positive – these brushes are softer and don't leave obvious brush marks.
Negative – the bristles bend a lot and it takes longer to get an even application of color.
Short Bristle Stencil Brushes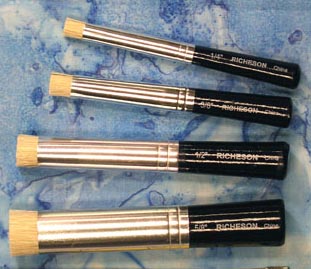 Because paintstik colors are so different than typical paints, I worked with our supplier several years to develop a set of brushes just for our use. The brushes have shorter, denser bristles. This means they don't bend as much when applying paintstik color, and it's easier to get opaque images on fabric.
Positive – it's easy to apply an even, opaque layer of color.
Negative – because they are so stiff, these brushes will leave definite brush marks if you are working on large areas.
Other Brushes
I occasionally use other brushes with paintstiks, particularly when I'm working with small details. Years ago, I found some "fabric dye brushes" in my local JoAnn Fabrics store. I have no idea if they are still out there, but you can keep your eyes open when you are in fabric and/or craft stores. These brushes are made from dense synthetic fibers and I found them very useful for stenciling images when I wanted to change the color of a very small area.
The right brush for the right job…
For some of our patterns and projects, it is better to use a specific type of brush. When we have a preference, we will tell you on the back of the pattern.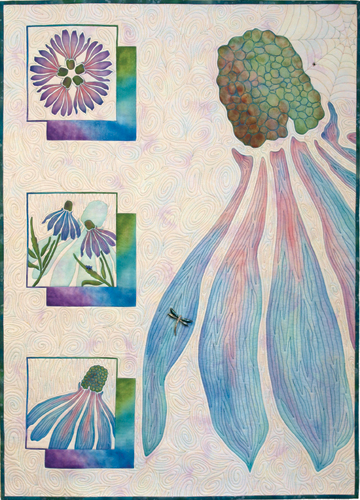 For example, it's much better to use the standard stencil brushes to paint the Coneflower quilt — especially the extra-large flower on the right side of the quilt. The standard brushes are much less likely to show brush marks, making for a more pleasing finished quilt.
So that's my tale of two (or more) brushes. I'm going to be talking about stenciling a lot in the next month or two, so you'll have a head start on when to use which brush.