The first weekend of August is always special in our little corner of Douglas County (Minnesota). It's the weekend of the Rose City Threshing Festival. The men bring all their (very large) toys, like steam engines, tractors and threshing machines.  They get most of the attention for the weekend, but the women have their own displays and activities. (In all fairness, there are a number of women who take part in the tractor pulls, threshing, and can tear down and rebuild a tractor. I think it's all pretty amazing!)
I got pulled into the threshing festival by my lovely neighbor many years ago. I used to go and sit with her in the machine shed and do some demonstrations. Here's a few of the Lakes Area Quilters members with the raffle quilt. It's not a fancy place to work, but we get lots of visitors through the building and it's always a pleasure to chat with them about quilting.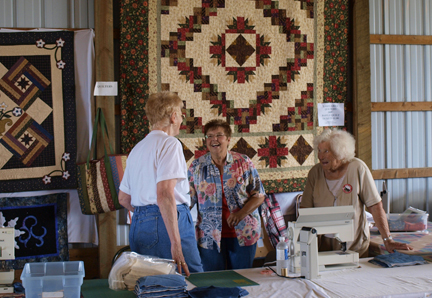 A few years back, the Lakes Quilters adopted one of the little buildings on the grounds and now it is used to display quilts and let the festival visitors know about our goup. Here's the Quilt Shoppe…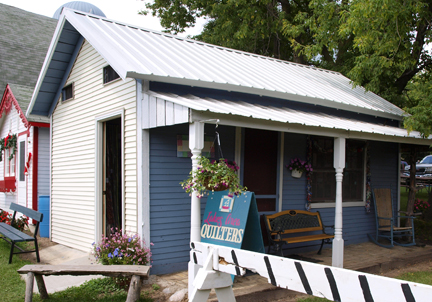 Displaying quilts at the Threshing Festival is a bit of a challenge — lots of people are walking around with sodas and ice cream cones! So, we came up with the idea of sliding huge plastic bags over the quilts so people can look through the quilts without leaving a sticky mess. It works!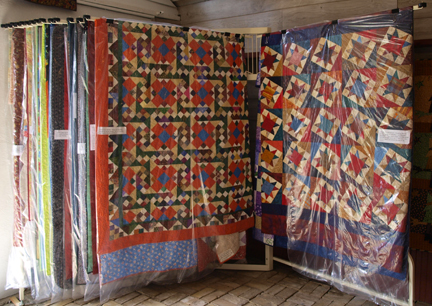 Our local quilters bring in everything from bed quilts to tote bags to share with the visitors. There's something for everyone — including a quilt that was donated as a give-away prize.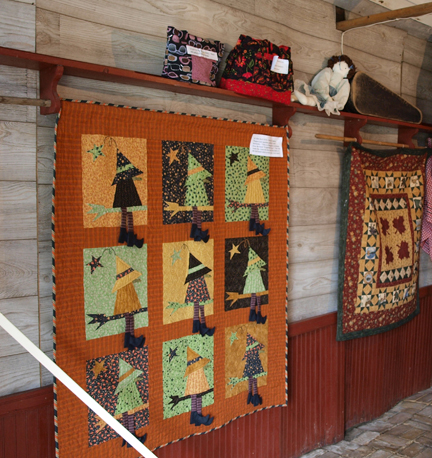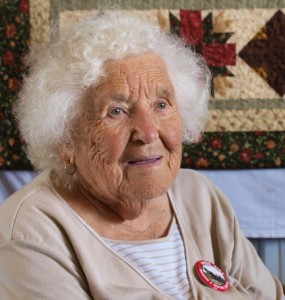 So, to my wonderful neighbor, Irene, I say thank you, thank you for pulling me into this wonderful event all those years ago. You have blessed my life with your wisdom and friendship. May you continue to enjoy the festival for many years to come!
Now I don't want to leave you with the impression that there's no threshing going on at this little country festival. One of my best quilting friends is married to a man who has a really big toy — Robby bought and refurbished a steam engine along with his son David. It is magnificent!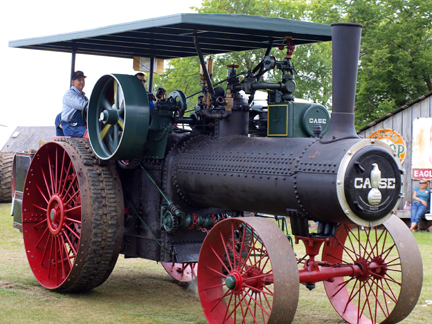 The parade is always a family affair. Robby and David are driving — and it looks like Robby is breaking in the youngest grandson pretty early here! The only one missing from the parade is my friend Mary, who is taking pictures, of course!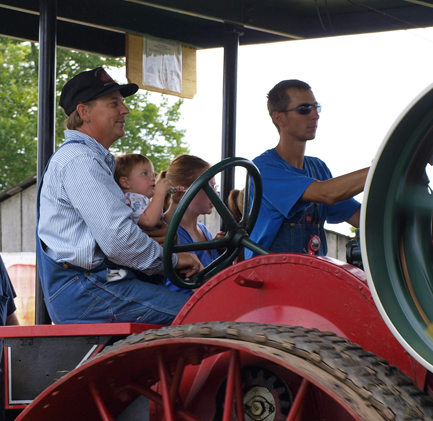 And steam engines (running on steam, of course) need lots of water, so Robby restored an old water wagon. Mary tells me it is a small miracle this thing holds water — it was in pretty rough shape when it came home to the Schultz place. I guess a guy's gotta have something to do in the winter when his wife is busy quilting.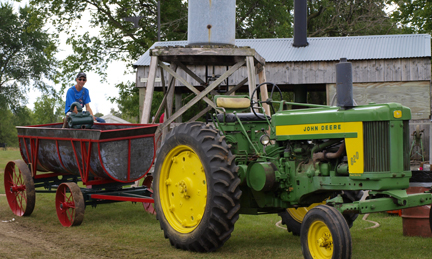 Here's David filling up the water tank, getting ready for more threshing!
And one more quilter-related photo. Red Wegner (husband of quilter Colleen and owner of the threshing machine) was the grand marshal for the parades this year. Here's a pic of Colleen and Red leading off the festivities.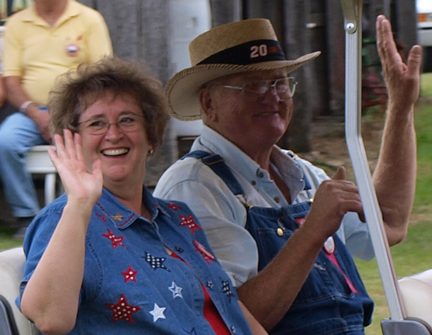 All in all, it was a wonderful August weekend. The weather on Saturday left a bit to be desired, but Sunday was simply glorious. The sun came out in the afternoon, but the temperatures stayed on the mild side, and the breeze kept everyone happy. Who could ask for more?