When I get involved in projects (especially books!), I often forget to take time to play. I'm fortunate to have a couple of friends who tap me on the shoulder once in a while and remind me it's time for a play date.
I joined two of my friends Becky and Deb for a Friday evening a few weeks ago. We popped open a bottle of bubbly, snacked on delightful (and reasonably healthy) food, and got caught up on each other's lives a bit. What a nice change of pace.
I wasn't so sure if beading and bubbly was going to be a good combination, but Becky proceeded to teach Deb and I to make these cut little beaded bracelets. It's amazing what you can do with a tube of beads, a button, some fishing line and a piece of leather. I sat down and finished my bracelet the very next morning. — so you know it wasn't too difficult.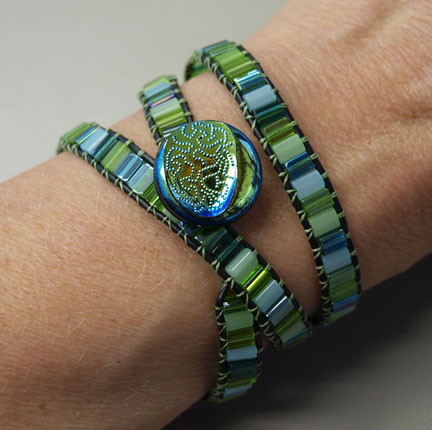 I just happen to have this antique button in my stash. It could not have been more perfect for the beads we confiscated from Becky.
Now you know what I've been doing this summer… What have you been up to?