by Shelly Stokes, Founder and Creative Mentor

It has been so long since I simply attended and enjoyed a quilt show and conference that I had forgotten how much fun could be packed into three short days. Not to mention how tired I could be when it was over – and I was not even working!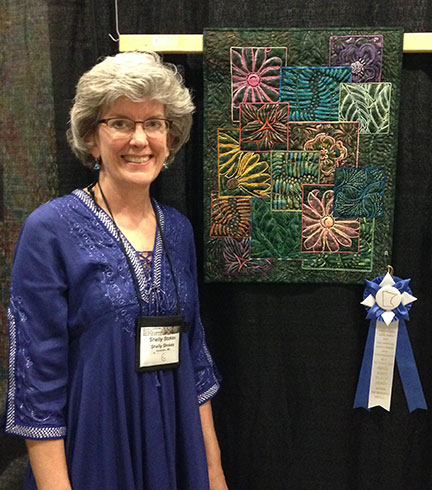 The fun started Wednesday evening. I was packing up the supplies for my class when I got an Email message from Laura Murray that said, "Oooooh, I see a ribbon on your quilt!" You know what? I'm just like you — and I still get a thrill when the judges at a show appreciate my work enough to pin a ribbon on it. It was a great way to start my visit to MQ.
Of course, not everything went according to plan. My sister Sharon was helping me carry the new Kaleidoscope rubbing plates into the convention center when she tripped and took a spill. While there was no major damage, she is now sporting a cast on her left hand while she waits for a few fractured fingers to heal. Let's just say that was NOT our idea of making a grand entrance.
With Sharon safely in the care of her sweetheart John and the new rubbing plates delivered to the vendors, I settled to enjoy the show. It was heavenly to be in the middle of hundreds of beautiful quilts and the amazing people who make them.
And I am not sure which I enjoy more — the people or the quilts! I know so many people for all my years of working and teaching at MQ that I can hardly go 10 feet down an aisle without collecting a hug or chatting with someone I know. I know… it's pretty rough duty!
I spent a day and a half looking at quilts, visiting with friends, perusing the vendor mall, and looking at yet more beautiful quilts. The sheer amount of energy at the show was amazing. To be honest, it was almost overwhelming at times. For a woman who works out of a home office and is quite content to live a very quiet life, three days at a show is a bit like drinking from a fire hose.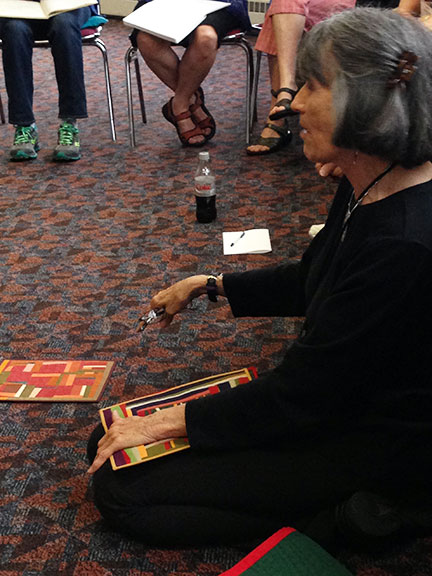 On the final day, I treated myself to a full-day class with Gwen Marston. She started by inviting us all out into the hall (for better light) and then plopping down in the middle of all of us for a leisurely tour through a stack of her small "sketches." Even more amazing was her ability to jump right up an hour later, no worse for the wear. I can only hope my knees are as good as hers 20 years from now!
Gwen's class was delightful. She taught us a number of free-form piecing techniques for making "parts" that we could assemble into our own small sketches or studies. In working small, she helped us discover a way to explore a lot of design concepts in a fraction of the time it would take to create and finish larger quilts.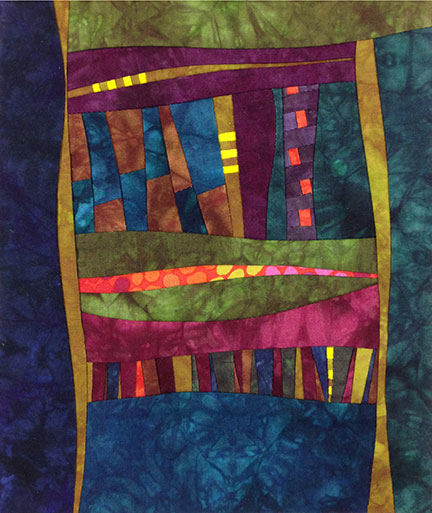 And you know what? It is really cool to be able to finish something during a class! I really enjoyed making this little piece. It is less than 8" x 9" in size, but it packs a lot of design into that small space.
It took a few days at home to unwind, but I am not "settling in" just yet. I am on my way to Chicago today for the International Quilt Festival. I will be hunting down beautiful threads and a few small tools for my stitching, and once again immersing myself in the sea of creative energy that will greet us at the door. I will do my best to keep my head above water.