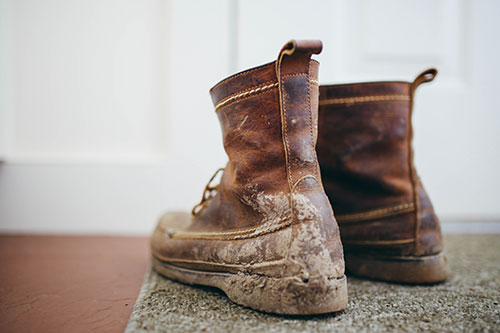 As I mentioned last week, a lot of things are changing here at Cedar Canyon. I am making some major changes to my business, and stepping into the future in a big way.
So what's with the boots? Look at it this way. When you set off on a new adventure, it pays to wear the right shoes. I don't wear flip-flops when I head off into a place I've never been before. I'm a whole lot more likely to arrive in one piece if I wear my old favorite pair of boots!
I'll be blazing a new trail for myself and the company. And that means we start two major items:
First, I am selling my major product line – the Cedar Canyon Rubbing Plates – to Jack Richeson & Company, our supplier for the Shiva Paintstiks.
And second, we will be closing the Online Store as soon as the inventory is cleared out.
There's plenty of heavy lifting to be done, and those boots are going to get a good workout.
I'm not going away…
Those are pretty big changes, but it's not the end of the line for me or for Cedar Canyon Textiles. I'm NOT closing the business, I'm NOT going to quit teaching and I'm most certainly NOT going away. But after 10 years of pouring all of my creative energy into a product-based business, it's time for the next iteration of Cedar Canyon Textiles to take shape.
During my residency in Mexico this spring, I spent a lot of time with some artists who do amazing work. The more I talked to them, the more it became crystal clear that I wanted my life to look a whole lot more like their lives – and that meant things had to change.
It always amazes me how things fall into place once we become really clear on what we really want. In fact, things can happen so fast it makes your head spin.  I finished up my big art project, scheduled my eye surgery,  and had a deal to sell the product line all in the space of one week. Yikes!
In spite of the emotional tug of war going on in my gut, this opportunity was simply too good to pass up. By selling the product line and closing down the warehouse, I can fully embrace my next career as an artist, teacher and writer. I'm much happier (and, frankly, much better) when I focus my energy on a small number of things.
A Look Back
The past 10 years have been an incredible ride. I wrote three books, developed several successful product lines, and brought the Shiva Artist's Paintstiks into the mainstream quilting and fabric art markets. Through my books, TV appearances and classes, I have helped tens of thousands of people learn how to use Paintstiks on Fabric.
I had a lot of support from the Richeson family. Although they initially couldn't figure out what quilters wanted to do with their Paintstiks, they had the good sense to turn me loose and let me run with the product line.
Looking back, I have to say we had a damn good run. Over 40,000 books, 100,000 sets of rubbing plates and tons (literally) of paint passed through our order desk since those precious Paintstiks took over my life in 2005. Wow!
While it was an exciting 10 years, it is time to step into the future – to spend my time doing the three things I love the most. Making art, teaching and writing are the things that feed my soul, and that's exactly what I'm going to do. Things will be different here at Cedar Canyon, but we will continue to explore and express that creative nature that makes us all tick.
A Note About Our Transition
To close up the Online Store, we need to clear a lot of inventory out of our warehouse. (My sweetheart has made it abundantly clear that he is not giving up any of his space in the basement or the garage – and I certainly don't want stuff piled up in my studio!)
The upside is that you are going to be able to grab some really amazing deals as we clear out the merchandise. The downside is that you will receive more promotional Email over the next month or two as we go through this process.
I hope that you will stay with us during the transition – and forgive the extra Emails. We'll get back to our regularly scheduled program of weekly newsletters, online courses and occasional promotions as soon as humanly possible.
Your Turn
Got a comment or a question about the changes here at Cedar Canyon? Leave a comment below or click over to our Facebook page.