With Halloween just around the corner, I'd like to serve up a few tricks and treats. Besides, this allows me to answer a question from one of our members.
After reading about the new Doodles Rubbing Plates, Nancy Wicks sent off a note asking "Do you have advice on how to get color on specific areas of the rubbing?" Here are two of the photos from that newsletter.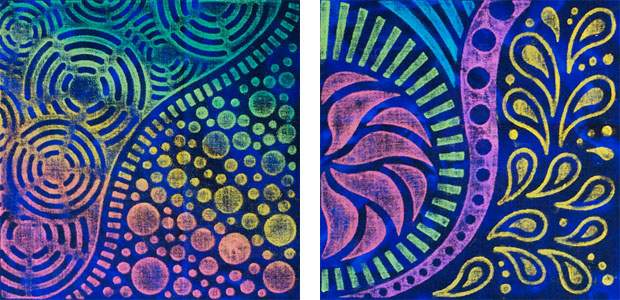 Having just spent about 10+ hours painting samples from each and every one of our rubbing plates, I can assure you that I have a long list of tips on just about everything related to making paintstik rubbings. Just hit the button on my left shoulder and I'll start from the top. 🙂
In the case of these two samples, I have a long answer and a short answer. Let's start with the short answer. For the image on the left, I simply started with one color in the lower-left corner and changed paintstik colors as I worked up to the other corner, blending the colors as I went along. I used iridescent watermelon, orange, light gold (yellow), lime green, green and maybe some jade in the top-right corner. It gives a nice rainbow effect.
For the image on the right, we've got to go to the long answer. Too long for a single newsletter. Rather than answering this one question, I'm going to share a series of posts that wrote for the blog earlier in the year.
This series of posts contains just about everything you need to know about making great rubbings on fabric with our paintstiks. Follow this series of links over to my blog for a bunch of tricks that will have you making multi-color treats. If you have questions or comments, post a message on the blog. I'd love to hear from you.
Part 1: Better Tools, Better Rubbings, My Favorite Tips
I reveal my top two secret weapons that will have you making gorgeous rubbings in no time flat!
Part 2: I Should Use Which End of My Paintstiks???
Get dramatically better rubbings by using the side of your paintstik rather than the end. (With a few exceptions…)
Part 3: Are You Allergic To Single Colors?
Here's the answer to Nancy's question regarding multi-color rubbings. Learn the ghostly secret to making marvelous multi-color rubbings.
Part 4: Oops! Now What? (Cleaning Up Paintstik Rubbings)
Got a boo-boo? Don't freak out. Learn about the magic erasers that will help you clean up your rubbings.
Have a great time making boo-tiful paintstik rubbings! With this bag of tricks, I just know it will be a treat! If you're looking for a special treat for yourself, just click over to our Online Store. You'll find lots of gorgeous treats to satisfy your creative sweet tooth.