Hey paintstik fans! I know you are busy people, but we've just launched a brand new website and I've got 7 great reasons for you to take a few minutes to explore the new site. Actually, if you are reading this, you are already ON the new site – but I still encourage you to spend a few minutes exploring.
Without further ado, here are my 7 Great Reasons to explore the new site:
1. The Learning Center

Our Learning Center is a great resource with something for everyone. We've got basic instructions, chemistry and safety information, tip sheets, free projects – even videos for those of you who like to learn by watching rather than reading. If you are a teacher or shop owner, you are welcome to download and hand out any of the tip sheets and free projects. It's there for you – and it's free!
2. My Blog
You are reading this on the blog, so obviously you've found it – and I hope you like it!
I try to post at least one article to my blog each week. The posts are often, but not always related to paint. After all – it's a blog. That gives me permission to write about life – and heaven knows that life is not always about paint! Start your week with Design Magic Monday and check back in to see what else it happening here at Cedar Canyon.
I love to post articles from or about our community members. If you would like to share your paintstik projects, send me a message. I'd love to see what you are doing with paintstiks, and we may be able to feature them right here on the blog.
3. Cedar Canyon Online / Community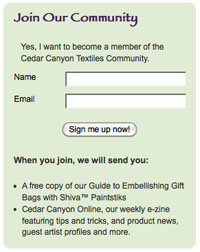 Cedar Canyon Online is our weekly e-zine for Community Members. To get the e-zine delivered right to your e-mail box each week, you need to join our community. Go to the home page of the site, type in your name and e-mail address, and just click on the button to join. It's easy!
Cedar Canyon Online is a weekly e-zine. It will feature a few short articles and occasional specials from our new Online Store. I promise that the e-zine will be focused on informative articles and not just a running sales pitch – but we'll be sure to let you know if there are special offers available. (You'll just have to humor me as I do a little shameless promotion this week.)
And that brings us to…
4. Our New Online Store
If you've ever been frustrated trying to find some of our products, we just opened an Online Store where you can purchase any and all of our products. We pride ourselves on keeping everything in stock and getting your orders out the door FAST!
Please read this important note: If you have a local retailer (or a favorite online retailer) that carries our products, by all means, support them! We would be thrilled if every quilt shop and craft store in the country loved our products as much as we do. Unfortunately, we know that millions of people in this country (and around the world) do not have easy access to our products and very few online retailers carry our entire product line. We are not trying to take business away from local stores and existing websites, but we continually get calls here at the office and decided it was time to make sure you can get what you want.
5. A Free Gift! – Shelly's Guide to Gift Bag Embellishments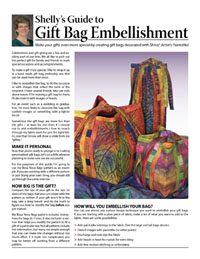 If you join the Cedar Canyon Community, you will receive a FREE copy of my Guide to Gift Bag Embellishment. If you are already on our mailing list, I want to make sure that you get the same benefit. To get your free copy of this guide, go to the home page on our site, fill in your name and e-mail address, and click the button to join.
You are probably thinking "wait a minute, I'm already a member…" but just trust me on this. Put the information in, click on the button, and you will be directed to a page where you can download the free guide.I promise that you won't end up on the list twice.
Inside this guide, you'll find the answers to 6 important questions you should ask before you start making or customizing bags for your gifts. Actually, you should go through a similar set of questions ANY time you customize or embellish a project – so this is one useful guide. Enjoy your free gift. It's yours with absolutely no strings attached.
Now here's where I'm going to do some shameless promotion!
6. Special Offer #1 – Free Pattern with Purchase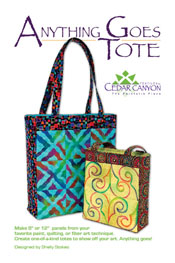 I'm pretty excited about the new Online Store, and I want you to be excited too! My store manager might shoot me for this, but I've set aside a free copy of our Anything Goes Tote pattern for the first 97 people who place an order. That's a pattern worth $9.95(USD) added to your order absolutely free! No coupons, no codes, just a free pattern with your order.
To get back on my store manager's good side, I'm only going to leave the offer open through the store launch period, which ends at midnight on January 31, 2011. Then we are back to business as usual – and she will stop grousing about me "giving away the store."
7. Special Offer #2 – Free Mini Paintstiks with Purchase of $100 or more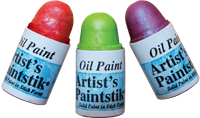 To make this store launch even MORE fun, I'm going to send a free set of our new Iridescent Mini Sorbet colors to the first 23 customers who spend at least $100 during our Online Store Launch. (And now I'm REALLY in trouble with the store manager!) If you are one of the first 23 customers to spend more than $100 during the launch period, you'll get the free pattern (a $9.95 value) AND a free set of Sorbet Minis (a $16.95 value) for a total of $26.90 in free merchandise.
Again, no coupon, no code to enter – just FREE goodies if you are among the first 23 people to place an order of $100 or more. (Shipping does not count toward your $100.)
Don't forget, the launch period for the online store ends at midnight on January 31, 2011, and that's only a few short days away. Click here to go directly to the Online Store.

Enjoy the new site!

p.s. You may have noticed the odd numbers in our special offers. I started off with nice round numbers, but several enterprising souls have already discovered our online store without me even telling them about it! Now that's exciting for us, but you need to act fast to take advantage of the special offers. Again, the special offers are ONLY good during the store launch period which ends at midnight on January 31, 2011.
p.p.s. If you are one of the people who really hates to shop online, you can call your order into our office at 218-943-5300 or 877-296-9278. If you get our voicemail, please leave your name and phone number and we'll call you back as soon as we can to get your order. (Please speak clearly and slowly when you leave your message as recordings are never as good as talking to you in person.) And yes, you can take advantage of our special offers over the phone.