by Shelly Stokes, Founder and Creative Mentor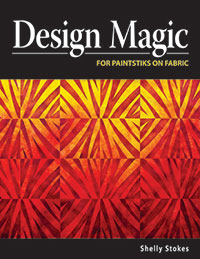 In 2010, I published my second book called Design Magic for Paintstiks on Fabric. I did extensive work with the design method laid out in the book for a couple of years before and after the book was published. Then I set it aside and moved on to new and different things.
After being away from the process for a couple of years, I can look at it with a fresh set of eyes. Plus, the method lends itself to creating designs in short bursts of time – a perfect activity for summer in Minnesota, when I would rather spend most of my time outdoors.
Before we get to the 30-Day Challenge, I would like to tell you how Design Magic came into my life.
Design Magic
Ideas are funny things. Some seem to appear out of thin air, perhaps jolted to life by a random event or conversation. Others sit on the back burner for years. And sometimes, it is a combination of the two. I needed an idea for a segment on Quilting Arts TV, and it somehow turned into a book. In reality, it started a good 10 years earlier.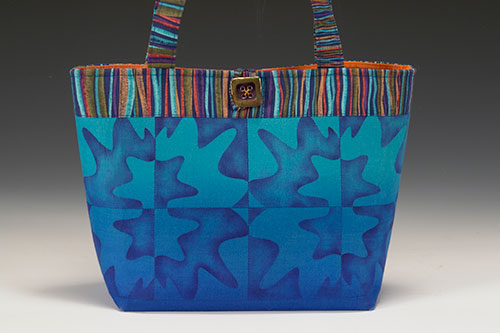 This is the handbag I made for the QATV segment.
My first contact with the idea that led to Design Magic was a homework assignment from fiber artist Jane Dunnewold. The assignment was to created a dozen Expanded Square designs based on a Japanese design principle called Notan.
I did my homework from a simple set of instructions, with cheap construction paper and a very bad pair of scissors while on vacation. I had never seen an Expanded Square or Notan design by anyone else, so I had no pre-conceived ideas about the process.
My designs were incredibly simplistic, but Jane saw all kinds of possibilities. As she looked at the designs, she said, "There are a lot of great quilts here." My challenge was to figure out how to transfer the designs to fabric.
As I pondered ideas for the QATV segment, I had the good fortune to discover my homework designs from Jane's seminar. I finally took a serious look at how I could use the designs. I actually sat down and played.
In a short burst of puttering with paper, scissors, fabric and paintstiks, I figured it out – and the Design Magic process came alive. It is amazing what happens when we step back from the busyness of life and take time for creative play.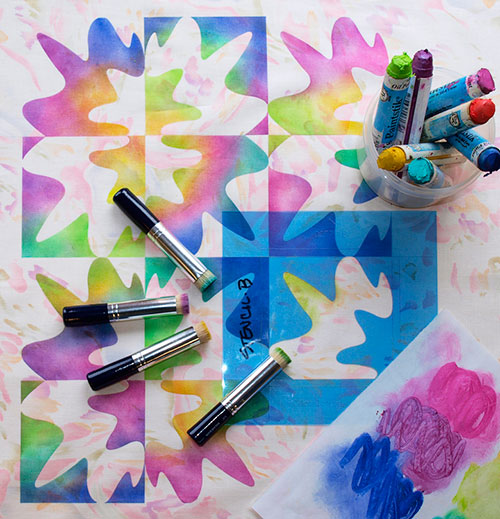 Needless to say, my simple experiment turned into a major adventure. And it will be great fun to wander down the Design Magic path once again.
Join Me for the 30-Day Challenge
If there is one thing I know about myself, it is that I have a short attention span. But I also know that I am more likely to finish something if I make a public commitment. So here is my pledge: I will create one Design Magic Design each day for 30 days. And you, of course, are welcome to join me.
Before we go any further with this, let me be clear. YOU can create as few or as many designs as you want. I am the the only one absolutely committed to creating all 30 designs. See? No pressure!
I am gearing up for a road trip to Oklahoma City for a family reunion, so we won't start the 30-Day Challenge until the middle of August. That will give you time to order or gather up any supplies you need, and give me a chance to figure out a space where we can share our ideas. (See, this is what happens when I decide to things on the fly!)
A Design Magic Primer
If you are unsure about whether you want to stick your toes into the Design Magic waters, I hope I can tempt you to download a short document and take a peek. It is the Q&A section at the front of  the book, and it contains a short pictorial overview and answers to a bunch of common questions.
Just click on this link to download the document to your computer: Design-Magic-Primer
What You Will Need
Our 30-Day Challenge will be all about design. There are only a few things that you really need. The rest is optional.
Required materials for creating designs:
Plain black (or dark colored) paper for cutting the initial designs
Plain white paper for recording the designs
Glue stick or tape for attaching your design to paper
Ruler (6×12 is a good size)
Craft knife (X-acto knife) with standard #11 blade
Small, sharp scissors for cutting paper
Cutting mat
Optional:
Our Design Magic Design Pack is a time-saver. Each pack contains 6 copies each of pre-cut and pre-printed black paper squares, design pages and stencil templates.
During our 30-Days, I am confident that you will create a few designs that you will want to paint out on fabric. To do this, you will need a few more supplies.
As we get to the painting, I will strongly encourage you to use a Grip-n-Grip mat and some 404 sticky spray. If you do not have these on hand, this is a good time to place your orders.
And now that I have announced this challenge, I will get busy and figure out how this is all going to work! You get your materials rounded up and I will keep you posted as the pieces come together.